Written on 10/15/2014
---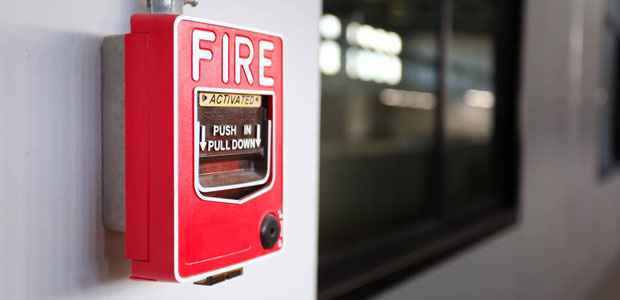 A well functioning fire alarm system is essential to the safety of your family, employees, or tenants. Having well-functioning fire alarm system and fire protection equipment is not only common sense—it's a legal requirement in public and commercial buildings. Here are the primary components of a large-scale fire alarm system.
Fire Alarm Panel
The fire alarm panel is the primary center of operations for the system. It monitors inputs, controls output, and ensures system integrity and relays this information across the other connected devices. It's essential that your fire alarm panel meets your fire protection needs, so make sure to carefully research your local fire code.
Primary Power Supply
This is a non-switched AC power source that is usually controlled by the power company. Large-scale commercial systems often use dedicated circuits to supply power to the fire alarm system.
Secondary Power Supply
The secondary power supply ensures that your system is still functioning in the event of a power outage. It's usually made up of high-powered batteries or a generator.
Initiating Devices
An initiating device is what activates the fire alarm. It's usually made up of an automatic activator, as well as various manual activators. Common examples of manual activators you've probably encountered are "Break Glass" stations or pull switches. An automatic initiating device is capable of detecting physical changes associated with fire, such as heat, smoke, flames, or carbon dioxide.
Notification Appliances
A key component of any fire alarm system is the devices that alert the building's occupants to the presence of fire. These typically include flashing strobe lights and audio devices, like horns and speakers.
Safety Interfaces
Safety interfaces control various aspects if the building's operation, including fire doors, ventilation systems, and duct dampers.
If you are in need of a fire alarm system, don't take your chances with just any company—your life could be in their hands. Fire Alarm Sales & Services, based in Southeast Michigan is a trusted source of fire safety equipment with a reputation for excellence. Contact Fire Alarm Sales and Services today and make sure that your building is safe, secure, and up-to-date.