Written on 07/13/2015
---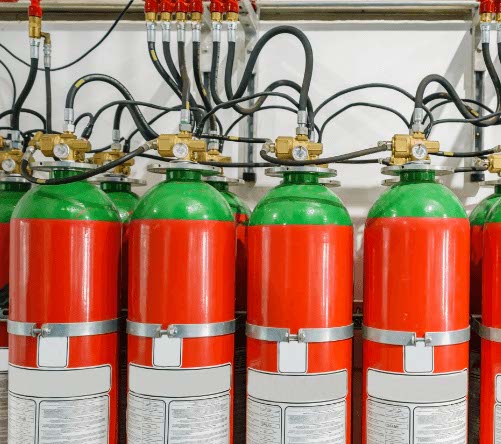 If you own a business, you should take the time to examine your fire prevention plans and policies that you have in place. If you do not have a commercial fire extinguisher system, or if your system is outdated, it may be time to consider buying and installing one. The importance of building fire safety cannot be overstated. Having passive and active fire protection system in place is vital if you want to fully protect your investment and your employees. On top of that, having commercial fire systems in place as part of your building fire safety plan can also help to lower your insurance rates.
An active fire protection system or AFP is a vital part of any fire protection plan. These commercial fire systems require either motion or response in order to work. There are two types of active fire protection systems available today, fire suppression systems and sprinkler systems. Fire suppression systems can control and sometimes extinguish a fire in your business automatically. These systems employ one of three means to achieve this goal: a fire sprinkler system, a foam system or a gaseous agent to fight fires.
The best fire extinguisher systems will deploy quickly and contain the agents used to fight the fire in the areas where the fire is raging. Sprinkler systems can control fires and allow your employees to escape or seek a place of refuge inside of your business should a fire break out. They usually consist of a head that sprinkles the water, fed by a piping system connected to a reliable water source. Once a fire is detected, by either smoke, heat, or flame, the system activates, releasing water from the overhead water sprinklers. Today's water sprinkler systems will only deploy in the areas where fires are burning, leaving the rest of your business untouched.
All commercial properties undergo fire safety inspections yearly, so naturally, you want to ensure that your business can pass these inspections with ease. Checking your fire systems quarterly is important if you want to ensure that your building will pass a surprise fire safety inspection. If you maintain your fire prevention and suppression systems, not only will you pass your fire safety inspections, but you will also be ready in the event that an unexpected fire breaks out.
Fire Extinguisher Sales and Service can provide you with a brand new state-of-the-art fire extinguisher system or fire suppression system. We also offer lifetime support for any product you purchase from us. Our experienced staff can assist you with any problems or issues you have in regards to fire safety. We also offer new clients a free site analysis, so contact us today for more information!