Written on 06/29/2016
---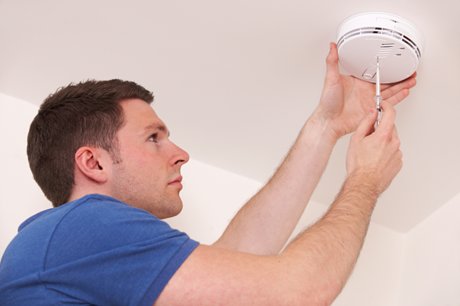 Thousands of fires occur every year and sometimes they are fatal. Fires are serious whether they are major or minor. When a fire occurs, a lot of damage can take place. Read on for five simple safety tips you can follow to keep you, your family, and pets safe.
1. Install Smoke Detectors
Install smoke detectors and make sure the batteries are always charged or changed on a regular schedule. Many deaths in fire occur due to smoke detectors not be installed or missing batteries. When it is time to change the batteries in a smoke detector, you will hear a few beeps every few minutes. Instead of removing the batteries because the low battery alert is annoying, change the batteries right then. Do not wait.
2. Do Not Attempt to Hide
A lot of people, even adults attempt to hide when a fire occurs. Hiding is one of the worst things you can do when a fire occurs. Some people freeze because they are afraid and are not able to collect their thoughts. Fire and smoke can reach every part of a residence, business or other establishment, so hiding is not a good idea. Instead of hiding, go outside immediately.
3. Escaping a Fire
You may not be able to escape a fire by simply walking out of the front, back or side door. In some situations, you will need to crawl on your hands and knees to get out of the home or business. When a fire occurs, it is easier to breathe when you are low to the ground.
4. Stop, Drop, and Roll
In the event your clothes catch fire, immediately stop, drop, and roll until the fire is completely out. Scream out for help and go to a fire extinguisher if you have one. When your clothes are on fire, never run because it causes the fire to burn faster.
5. Choose a Meeting Place
Before a fire ever occurs, you need to pick a place to meet. Everyone in the family needs to be aware of the meeting place and the place you choose to meet needs to be out of the way of the burning home or facility. You may want to have accessories such as flashlights and whistles to help you find one another.
For more fire safety tips or if you have any questions, contact Fire Extinguisher Sales & Service